Super Wax Polish is for restoring the apperance on interior concrete floors that have been sealed previously with a "wet look" sealer.
Super Sealer Wax polishes Interior concrete floors. It enhances decorative systems including stained concrete floors on both newly sealed floors and to regain the luster to worn areas of previously sealed and polished floors. Super Sealer Wax may be used in restaurants, stores, malls, office buildings, healthcare centers, hotels, motels, etc.
Benefits: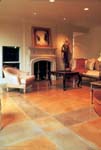 Adds deep gloss
Scratch resitant
Touch-Ups
Great for maintance for high traffic areas
Water-Based
Acrylic-Wax finish
Application:
Floor should clean and sealed.
Apply with lambs wool, sponge mop, or microfiber applicator. 2 or 3 initial coats may be preferred. Allow 30 -60 minutes between coats to dry. Buffing with high speed buffing machine will maximize luster of Super Sealer Wax. Allow 4 hours to cure and dry before foot traffic resumes. Re-apply as needed.
1000 ft2 per gallon per coat. 2-3 coats may be preferred
Loading comment...
The comment will be refreshed after

00:00

.